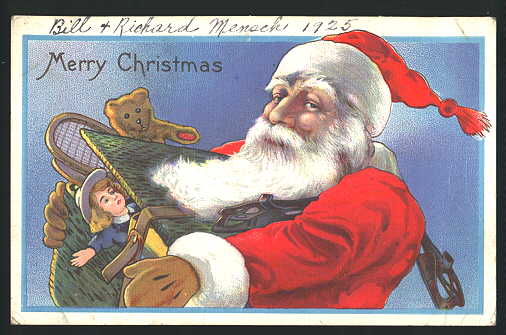 Item Number: PCSAN1

Title: "Merry Christmas"

Publisher/Series: 740 E

Description: Happy Santa carrying a basket of toys, linen finish.

Condition: Album corner marks, writing and worn corners

Postmark: None, but dated 1925 in writing

Price: $5.00


HOW TO ORDER:
1. Jot down the item numbers of the cards you would like to purchase.

2. When you are finished making your selections, click on the "ordering information" page above to read our policies and shipping charges.

3. Click on the e-mail link provided to let us know your item numbers. We'll make sure they are in stock before you send payment!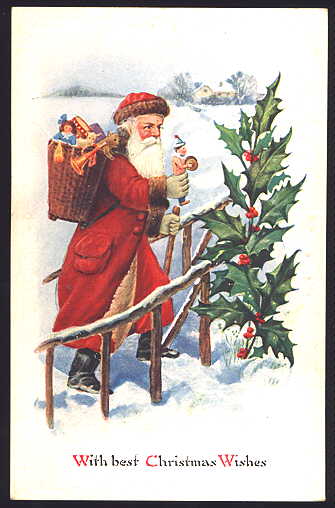 Item Number: PCSAN2

Title: With Best Christmas Wishes

Publisher/Series: 72

Description: Beautiful Santa with pocket in coat, and brown fur trim instead of white. He carries a basket and walking stick! Embossed card, rich color.

Condition: Worn corners, surface aging, light creases in upper left corner, top area towards the right and left from middle edge.

Postmark: Postally unused

Price: $12.00


Enter content here